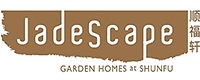 Overview
Construction Progress
Gallery
Location
Overview
TYPE OF UNITS
1- to 5-bedroom units

Introduction
If there's one thing to be said about JadeScape, it would be that it was built to spark awe. With 7 peaks that strike the silver edge of the sky. Carved waterways in it's valley. And green life that is fed by those same waters. From the minute you walk in, to the time you lay down in your home, the majesty of it all is unyielding.
Not only is JadeScape a reflection of the eminent Tange legacy, its very location makes it highly desirable.
Located in the heart of Singapore, it is within walking distance to Marymount MRT station and the future Upper Thomson MRT station, making it easily accessible via a total of four MRT lines – the current Circle and North South lines, as well as the Thomson East Coast Line that is under construction, and the future Cross Island Line.
Those who drive will enjoy extremely convenient commutes, with JadeScape being well-connected to the Pan Island Expressway and Central Expressway, as well as the future North South Corridor – Singapore's first integrated transport corridor featuring continuous bus lanes and cycling trunk routes linking towns to the city centre.
Developer: Qingjian Realty (Marymount) Pte Ltd (ROC:201613375Z) • Developer's Licence No.:C1238 • Encumbrances: Mortgage No. IE/938254H in favour of United Overseas Bank Limited • Lot/Mukim No.: Lot 17609L MK 18 at Shunfu Road • Tenure of Land: 99 years leasehold commencing 19 Jun 2018 • Expected Date of Vacant Possession: 9 Jan 2023 • Expected Date of Legal Completion: 9 Jan 2026
Construction Progress
Gallery
Location